Rule 1. Dosage frequency
When prescribing pills several times a day, most doctors have in mind the day – not the 15-17 hours that we usually stay awake, but 24 hours. It happens because the heart, liver, and kidneys work around the clock. The cells work without interruptions, lunch, and sleep. As a result, the intake of tablets should be divided as evenly as possible.
The interval between a double dose should be 12 hours, three times – 8, four times – 6. This does not mean that patients should jump out of bed every night. There are not so many medications, the accuracy of which is calculated per minute. Such medications are usually prescribed not in tablet form. In order to avoid interpretations when applying meds twice, for example, it is justified to prescribe a specific time for taking the pill: 8:00 am and 20:00 pm or 10:00 am and 22:00 pm. The patient feels more comfortable.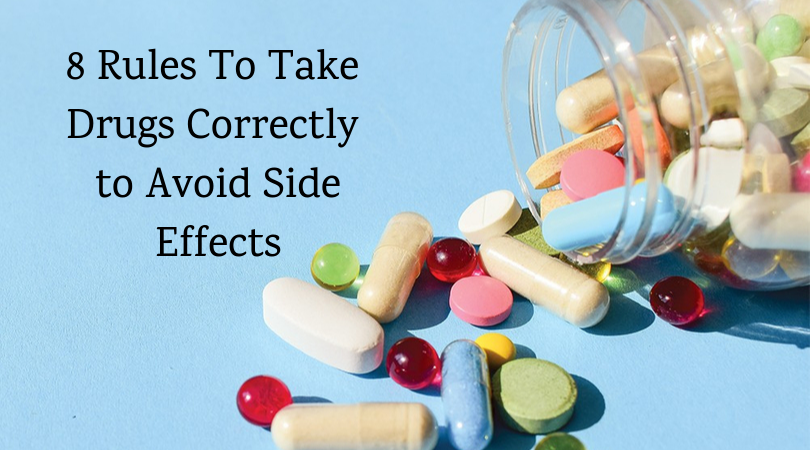 Rule 2. Compliance
In the case of short treatment courses, people usually do not forget to take them a couple of days. In the case of a long therapy course, people may forget to take the pill at the required time. There is another issue: sometimes people mechanically, half asleep, take medication, then forget about it and take one more pill. There may appear overdose if the drug is potent.
Rule 3. Dosage regimen
In relation to meals, all pills are divided into groups:
irrespective the meal;
before the meal;
after the meal;
during the meal.
The patient should eat strictly according to the schedule, does not have a snack during breaks. But in the patient's mind, an apple, a banana, and candy are not food. Unfortunately, these ideas also contribute to the misuse of drugs.
Rule 4. Not all pills can be taken together
Most tablets should be taken separately if their combined application is not agreed with the doctor. This is not very convenient, but it is impossible to carry out studies on the interaction of all drugs in the world. At least 30 minutes should elapse between taking food and drugs.
Now about compatibility. Often patients like to bring their own creativity to treatment. For example, "I am taking medicine prescribed by a doctor, and since it is probably harmful, it's nice to drink vitamins or something else simultaneously." The fact that vitamins can neutralize the medicine or lead to unpredictable consequences when applying the main drug is not taken into account.
Rule 5. Not all tablets have fractional dosages
Dosages may be different. Not all of them can be divided into several doses. Moreover, some tablets are coated, which damage can affect the drug properties. Therefore, the absence of a functional score should be alerted. Most often such a tablet cannot be divided. Dosages in one-fourth or even one-eighth of tablets also provoke questions. It is practically impossible to measure dosage correctly in such cases. If such a prescription was made by a doctor, one can ask him what it is fraught with.
Rule 6. Medications are washed down only with water
Not tea, coffee, juice, sweet soda, but nominal water – the most ordinary liquid to wash down the pill. This issue is even devoted to separate studies. True, there are certain groups of drugs that are washed down with acidic drinks, milk, alkaline mineral water, and other separately specified drinks. But these are exceptions. They will certainly be mentioned at the time of appointment and in the instructions for use.
Rule 7. Chew chewable tablets, dragees are not cut
A chewable or dissolving pill that you swallowed whole will work after another time or will not work at all. The form of drug release is also not chosen randomly. If the tablet has a special coating, it must not be crushed or cracked because this coating protects the active substance from stomach acids, the stomach from the active substance, the esophagus or tooth enamel from damage, etc. The capsule form of release also claims that the active substance should be absorbed only in the intestine and for a certain time. Therefore, capsules can be opened only as prescribed by the doctor.
Rule 8. There are special cases, but they should be evaluated by a doctor
Different doctors have their own tried-and-true treatment regimens for years. Sometimes the dosage and method of using the drugs may vary for different groups of patients. Similarly, in the presence of the patient's characteristics (concomitant diseases, individual reactions, etc.), the appointment can be adjusted for this particular case. Moreover, factors that are not always obvious to a person without a medical education influence the drug choice and the method of its use. Therefore, if your grandfather with hypertension took the same drugs according to a different regimen prescribed by the best doctor in the world, this is not a reason to take them the same way. It is necessary to take pills without initiative. Absolutely any innovations that are not agreed with the doctor are unnecessary.
Category: Healthcare | Tags: drugs, side effects